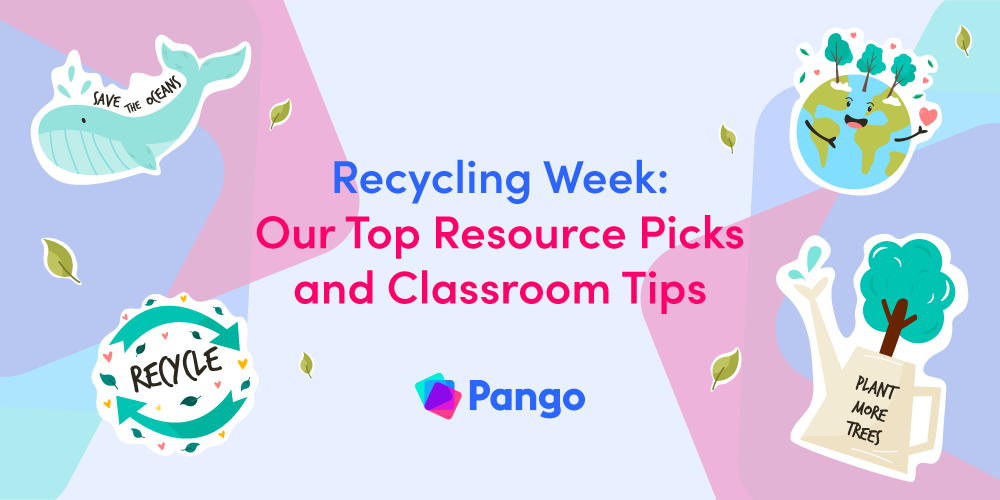 Climate change and the environmental crisis we face are crucial topics to broach in our classrooms, but it has to be done carefully. While kids need to understand their need to play a part in bettering the world, it's important not to scare them or make the situation appear hopeless; they must feel excited and empowered about the actions they can take to better the world.
One of the easiest ways children can start doing their part for the planet is through recycling, and Recycling Week is the perfect time to bring recycling to your classroom. Recycling Week runs from the 19th to the 25th of September, and the theme this year is 'Step It Up This Recycle Week' to help rally everyone around the climate crisis.
What is Recycling Week?
Started by WRAP (Waste and Resources Action Programme), Recycling Week is an event that takes place each year to promote recycling and educate people about how it can benefit us and our environment. This year's theme 'Step It Up this Recycling Week', encourages everyone to take part in recycling and build up positive habits that will help to fight climate change.
How can we encourage recycling in the classroom?
For Recycling Week, teachers and other members of staff can use fun activities to encourage recycling in the classroom and elsewhere around the school. These activities will help children to become passionate about recycling and proud of the crucial role they can play in helping to save the planet. Some ideas and activities that you might want to explore with your pupils during Recycling Week include:
Teach your class all about the importance of recycling with this Recycling & Reusing PowerPoint for Years 1 & 2 from Teacher of Primary, or this

Why Recycling is Important video from Learning Mole

, which is appropriate for Years 1-6.

Set up a recycling point inside or outside the classroom and in the lunch hall where children can sort cartons, bottles, boxes, and other things that can be recycled.

Encourage the use of reusable drinks bottles rather than disposable, single-use bottles and give children time to refill their drinks bottles before or after break time.

Discuss how pupils can reduce waste in their packed lunches, such as a lunch box with compartments that can keep everything separate without using clingfilm, foil, or sandwich bags.

Incite friendly competition among the whole school to get them excited about recycling and reducing waste and have a competition for which class can recycle the most.

If you can, setting up a composting scheme can help children to learn about soil, food production, and ecology as well as recycling.

Create fun arts and crafts projects using recycled materials such as plastic bottles, egg cartons, and magazines to show the children how they can reuse and recycle.

Have each child design a poster to encourage recycling in their school or create a leaflet that outlines common household waste and how it should be disposed of in the most environmentally friendly way.

Get each class to write a song about recycling and its benefits and hold a performance for the whole school and parents at the end of the week!
Save the planet with this

EYFS-friendly recycling activity from Earth Cubs

.
Recycling Week is the perfect opportunity to get your classroom (and the whole school!) involved and excited about recycling so that it becomes a positive habit that they will continue both at school and at home for the rest of their lives! You can find plenty of recycling resources for EYFS – Years 6 to help you in the Pango Library.