An Innovative Approach to Teaching English: Livello

Adam Still

Content Partner Announcement: Livello English Modules are on Pango!
If you've been struggling with your English planning or are getting tired of the same schemes of work, this one is for you! We're incredibly excited to announce that Livello is on Pango!
What is Livello?
Livello adopts an innovative and thematic approach to English, using texts and pictures as an exciting stimulus and launchpad for learning.
The English resources are split into 36 modules across Years 1-6, with each module inspired by a text or image and linked to objectives for punctuation, grammar, comprehension and composition.
Each module contains:
A Curriculum Overview - highlighting the elements the module will cover

A Medium Term Plan - outlining the objectives to be covered each week alongside activity ideas

Weekly Activities - worksheets and games to use across the module & guide your teaching
The imagination of the scheme is fantastic, with inspiration for modules including the painting, 'Children's Games', by Bruegel and the fictional journal, 'My Secret War Diary', by Marcia Williams. Throughout the 6-week module, pupils engage in a range of learning activities inspired by these images and texts, making their English learning come to life!
English Curriculum Planning for the Year Ahead
However, what's really special about Livello is the clear structure for planning it provides whilst leaving you with the freedom to personalise your lessons to meet you and your class' needs. The curriculum overview and medium-term plan provides you with a clear guide for how to cover all the English curriculum across the term or year ahead but there is still space for you to pull resources from a variety of English content providers, ensuring all your lessons are unique!
We love how well Livello and Pango work together. You can use Livello in Pango to structure your English lessons for the term and then browse Pango's intelligent resource recommendations to add a variety of English resources to your lessons without needing to open a new tab or visit a new website.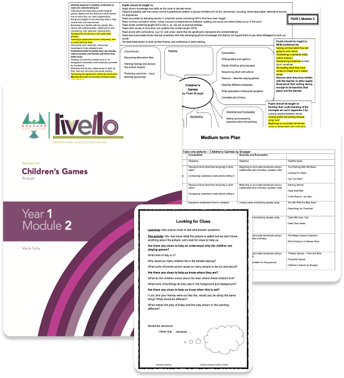 What are teachers saying?
It matters to us that the content we have on Pango is loved by teachers and students alike which is why it's great to hear that Livello is benefitting both teachers and students and improving educational outcomes as a result.
It does the hard work for you but doesn't stifle you - you have started points but you can still shape the curriculum to your pupils' needs. We've been using it for a couple of terms and the staff wouldn't be without it."
Bev, HeadTeacher at By Brook Valley Primary School

"Throughout the school, the children are so engaged and enthusiastic. Their progress has been rapid and attainment high. For the teachers, it's a pleasure to plan and deliver such inventive ideas.'
How can I access these resources?
Search Livello on Pango to explore the Livello English Modules and see how they can help elevate your English lessons.
We can't wait to hear about how much you're loving Livello!