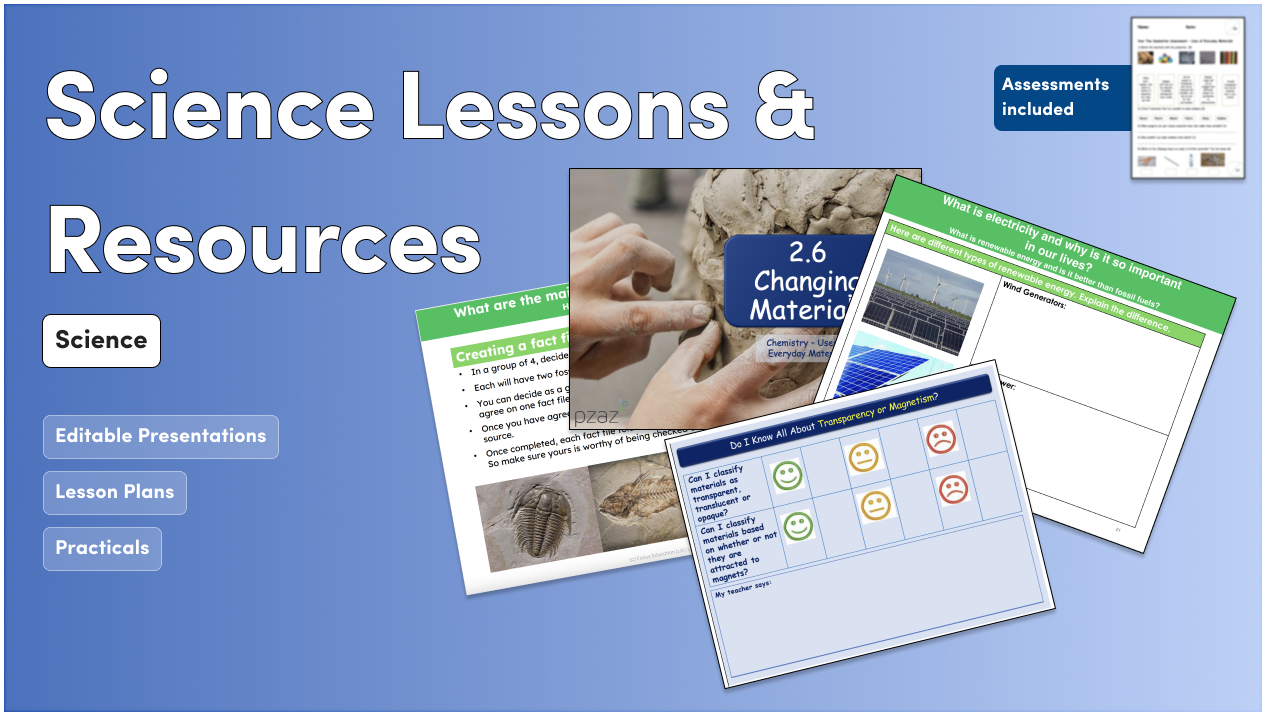 A world without science would be a much lesson interesting place. Science explains and affects everything we do, from dropping a pen off the table to how we grow and age. We know so much about how our world works, yet the universe is shrouded in mystery; it's exciting, fascinating, and it's our job as teachers to introduce young minds to these topics.
The good news is you don't have to reinvent the wheel. By using a science scheme of work, you can access fully planned science units of work to ensure progression of skills in science, and a time-saving way to offer curriculum coverage to all pupils
Why Use a Primary Science Scheme of Work?
Science schemes of work give you confidence and move you from the overwhelming position of having to plan every lesson yourself, and how each domino will fall into the next, to one of empowerment.
Instead of going back to the beginning and planning what countless other teachers have already planned before you, a scheme of work offers you a ready-made, comprehensively structured plan to follow – saving you time and ensuring high-quality teaching and learning.
Science schemes of work ensure all your lessons align with the national curriculum and provide a balance between disciplinary and substantive knowledge. Not only does this save you precious time and reduce your working hours, but it also gives you a boost in confidence because you know every lesson you teach will help your pupils make rapid progress.
How Do I Choose a Primary Science Scheme of Work?
Choosing a science scheme of work can be daunting. You need to know you've chosen one that covers the curriculum whilst being adaptable for your pupils. Here's what you should be looking for:
Curriculum alignment: Ensure that the scheme you have chosen is suitable for your country's curriculum – not all are!
Practical activities: Hands-on learning is an essential part of science education. Choose a scheme that offers a good variety of practical activities you can easily offer students to engage them with hands-on learning and reinforce theoretical concepts.
Assessment and tracking: Many schemes of work include assessment and tracking materials to help you track your pupil's progress and see if they're on track to meet all your learning objectives. Teacher assessment of course plays a part in this too.
Videos: If you're new to teaching, you may find science explainer videos of some of the lessons and activities help boost your confidence as you go into your lessons. Many schemes of work offer CPD videos to do just that.
Flexibility: Your scheme of work should be adaptable to suit your class's needs and your teaching style.
The Best Primary Science Schemes of Work
We offer thousands of resources for primary school teachers here at Pango, and have curated partnerships with trusted publishers to bring you the best choice when it comes to primary science schemes of work.
PZAZ: PZAZ, a science subject specialist, offers comprehensive science schemes of work for EYFS and all primary years. What sets PZAZ apart are the extensive resources included in each scheme, from CPD videos and progression maps to approximately 500 easy-to-resource practicals. Their schemes cover every statement in the national curriculum and come with assessment and tracking materials
PZAZ also provides invaluable resources for science coordinators, which you can find here.
Focus Education: Focus Education, led by Clive Davis, who has been awarded an OBE for his services to education, delivers a detailed, enquiry-based approach to primary science. Their schemes are flexible and have robust cross-curricular links, ensuring your pupils get a well-rounded science education. You can find Focus Education's science schemes of work here.
Both of these primary science schemes of work provide you with a comprehensive, engaging, and time-saving solution to your science lesson planning. The right scheme of work can transform science lessons, because you are able to focus on offering pupils engaging, enriching, and effective learning experiences, instead of the "what" that goes into them. To evaluate which science scheme might best meet your needs, explore our science resources.