Teaching Primary School Music: How to Plan Lessons for Young Children

Rachel Murgatroyd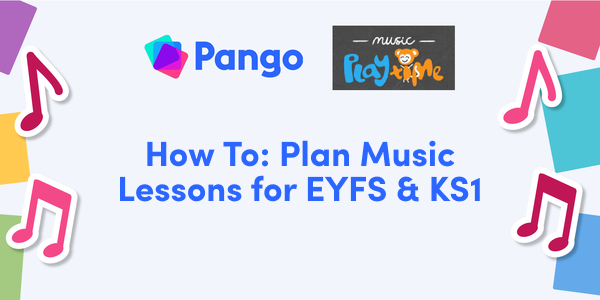 The draw to primary school teaching is often the varied subject matter; one minute you're discussing the life of Victorian children, the next you're making models out of recycled materials. One area of the curriculum many primary school teachers find difficult in teaching is music.
Not only does teaching music require you to put yourself in the spotlight in a new and often uncomfortable way, but most of us don't have formal musical training. And if we do, it goes back to secondary school lessons. So how can we bring music to life in the classroom in a constructive way, and is it worth it for children so young?
The Music Requirement at EYFS & KS1
Before we discuss why music is important and how you can teach it in the classroom, let's get clear on the curriculum requirements.
Music is required teaching for Early Years and KS1. The Statutory Framework for Early Years Foundation State (2021) states that children should, "sing a range of well-known nursery rhymes and songs," and "perform songs, rhymes, poems, and stories with others and - when appropriate - try to move in time with music."
The Development Matters guidance also recommends that 3-4-year-old children should:
Listen with increased attention to sounds and respond to what they have heard, expressing thoughts and feelings
Remember and sing entire songs
Match the pitch of tone sung by another person
Sing the melody of familiar songs
Create their own songs or improvise a song around one they know
Play instruments with increasing control to express their ideas and feelings
Reception students should:
Listen attentively to music, move to music, and express their feelings and responses to music
Sing in a group or alone, while matching pitch and following a melody
Explore and engage in music, performing in groups or solo
At KS1, the timetabled requirements include:
Singing (simple songs, chants, rhymes, call and response songs, pentatonic songs, using dynamics and tempo changes, and responding to a leader's directions and symbols)
Listening (to a wide range of styles and traditions)
Composing (question and answer, sequences, sound pictures, graphic notation, rhythm patterns, pitch patterns, including with technology, creating music as a response to a non-musical stimulus, working with a partner to improvise questions and answer phrases)
Performing using instruments and voices (based on:

pulse/beat including moving to a beat, body percussion, walking in time, grouping beats
rhythm including performing rhythm patterns, word patterns, inventing rhythms
pitch including comparing high and low, discussing differences in sound, exploring percussion to enhance storytelling, and following pictures and symbols to guide singing and playing)
Why is music important for Early Years and KS1?
It can be tempting to think that music lessons aren't a necessity when children this young are often simply learning to make noise; but it's that self-expression, joy, and wider cultural understanding that makes it so vital. Here are just a handful of reasons why music lessons are critical for Early Years and KS1:
Music is a great way to allow introverted or neurodivergent children an outlet to express themselves
Explore cultures that are unlike their own
Singing together provides bonding opportunities
Music develops coordination, cooperation, and communication skills
Encourages performance and putting yourself in the spotlight
How to Teach Music to Young Children
The language used in some of the curriculum requirements can be intimidating for a teacher with little formal musical training or knowledge, but things look much more doable in practice. All you need are the right resources so you're not out at sea trying to come up with lesson plans on your own.
If you're new to teaching music to Early Years or KS1 and are looking for strategies to use in the classroom, Music Playtime offers useful CPD videos. Instead of showing you what the "perfect" situation would look like, all their lessons were filmed teaching real lessons to young children in an afterschool club. These videos can inspire you and give you more confidence.
Here are some of our best tips on teaching music to young children:
Make Musical Instruments - Musical instruments can be easily made using tissue boxes and rubber bands or old wrapping paper tubes.
Sing as a Group - Singing as a group may not sound particularly musical when you start with young children, but it's a great way to encourage everyone to join in and not put too much pressure on individual children to perform before they've developed confidence.
Make Sound Effects to a Beat - Set a beat (this can be a recorded sound, you clapping, or the whole class clapping if they can keep a beat) and then each child makes a sound related to your theme. For example, you may choose to be a zoo, and every four beats one of the children makes a four-beat animal noise.
Mimic Rhythms - Clap or sing a rhythm and get the class to copy you.
Perform an Action to a Beat - Play a song and act out an action to the beat. This could be a theatrical action (such as pretending to bake, sweep, or similar) or a musical action (such as clapping their knees, tapping their shoulders, or stamping their feet).
Take the Guesswork Out of Teaching Music to Young Children
Covering all the requirements can be difficult, especially if teaching music is new to you. Following a scheme, such as this EYFS & KS1 Scheme from Music Playtime, is usually your best and easiest option. This scheme contains 30 topic-based units, each containing lesson plans, CPD videos, audio files, engaging activities, and more. With a scheme like this, you can plug and play, using these lesson plans and activities as a foundation for your music lessons so you can focus on teaching the children in front of you.
You can explore the Music Playtime EYFS & KS1 music scheme on Pango and start a free trial to access the music resources for free.