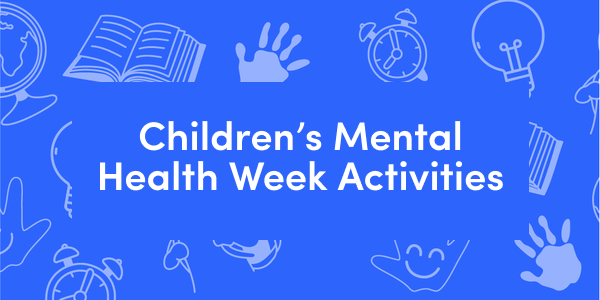 Children's Mental Health Week is an important date on the calendar and provides us with the opportunity to discuss some important topics in the classroom. Launched in 2015 by the children's mental health charity, Place2Be, Children's Mental Health Week takes place each year to encourage children (and adults) to talk about how to maintain and support their mental health.
Children's Mental Health Week 2023 is taking place from the 6th to the 11th of February (with the theme of "Let's Connect"), so we want to share some of our favourite activities and tips that can help you start some impactful discussions in your classroom.
While some of the mental health week ideas below were chosen with the 2023 theme in mind, the activity ideas we've included in this article are evergreen. You can use them any year, and any time you need to discuss mental health in the classroom.
5 Children's Mental Health Week Activities
1. Teach Them About What Impacts Their Mental Health
Most of us didn't grow up learning about how to manage our mental health - or even that we should - so give your pupils the gift of knowing all the different things that impact our mental health at this early age. Our KS1 and KS2 PSHE units on mental health from Votes for Schools will help you explore the basics and help your pupils to become aware of how they feel and how they can manage their feelings.
Our KS1 unit covers comparison, friendship, nature, pets, and stress. Our KS2 unit takes things a step further and discusses sleep, body image, friendships, loneliness, gaming, the news, and nature. These units offer a great introduction to mental health, providing an entry into difficult topics, all in an age-appropriate manner.
2. Keep a "How I'm Feeling" Board
There are many apps and planners out there that have a "mood tracker" feature, that asks you to track your mood each day, or sometimes, throughout the day. You can create a similar tracker for your pupils, but one that is a mental health "check-in" rather than an ongoing tracker.
A mood check-in will allow you to keep tabs on how your pupils are doing and give them a simple way to let you know when they're not feeling great. Set up a poster at the back of the room, or in another area of the classroom pupils won't naturally be looking at all day and provide post-it notes for your pupils to write their names on. They can then put their name next to the mood that best represents how they are feeling, and they can move it throughout the day if their mood changes.
Instead of using representative words like "happy" and "sad", try using a scale that looks something like this:
I'm great!
I'm good
I'm so-so
I'm not feeling good
I'm feeling bad but don't want to talk about it
I'm feeling bad and would like to talk about it
When you notice a pupil has put your name in the last column, you can find a quiet and subtle way to approach them to talk about how they're feeling.
3. Roll a Worry
In this activity, you teach your pupils 6 different tools they can use to deal with stressful emotions. They can then roll a die to be prompted with which technique to use to better manage their emotions. (Of course, these tools can also be used at any time, if the child feels like it works for them.)
You can do this activity as a class, teaching everyone all 6 techniques, and then roll a die at the end. For the rest of the week (and ongoing if your pupils find it useful), leave the dice in a box at the back of the classroom so they can take responsibility for their own emotional regulation and use the tools when they need them.
Here are 6 techniques you can use, but feel free to switch any if you have other techniques you'd rather use.
Breathing - Box Breath: With a hand on your heart, breathe in for a count of 4, hold for 4, breathe out for 4, hold for 4, and repeat.
Grounding - 5, 4, 3, 2, 1 Method: Notice 5 things you can see in the room, 4 things you can hear, 3 things you can feel, 2 things you can smell, and one thing you can taste.
Self-Support - Reframe: In your head or on a piece of paper, write down all the things that are going right for you, and all the things you find easy. Tell yourself what a good job you're doing.
Exercise - Movement: Set a timer for two minutes (or put on a song) and run around, dance, or do jumping jacks. When you move your body produces endorphins, which make you feel good!
Support From Others - Find a Friend: Tell a friend, teacher, parent, or anyone else in your life you feel safe with about your problem. They don't have to help you find a solution but sharing a problem will often help you feel better.
4. This, Not That
An overcritical internal monologue can make developing healthy self-esteem difficult, so a great activity to do in the classroom for Children's Mental Health Week is to teach them to say this, not that when they talk to themselves.
Create a worksheet with several negative thoughts in one column (the "not that" column), with empty space in another for your pupils to rewrite a more positive thought (the "this" column). It's also a good idea to leave a few empty thoughts, so they can practice with thoughts they may have had themselves.
For example, a negative thought may be "I'm stupid," and a positive thought to replace it could be, "I'm learning."
This is also a great tool to use with pupils who are going through a hard time since most of us blame ourselves for our problems. This will help them learn not to believe their every thought and to think about how they speak to themselves.
5. Gratitude Practice
Being grateful for what you have is a shortcut to feeling better about yourself and your life. While it can't single-handedly conquer bad feelings, it can help improve your overall sense of wellness.
With paper, create a tree trunk or use blue paper to create a watery background, and provide your pupils with paper leaves or fish for them to write on. (If appropriate, you can also get them to create their own to show them how arts and crafts can be relaxing.)
Your pupils should then write something they are grateful for on each leaf or fish, which they can then stick to the tree or in the water, creating a tree or sea of gratitude.
Talking about mental health is daunting, whether you're talking to children or adults, but remember that you don't have to provide them with a perfect answer. We all manage our mental health in different ways, the important thing is to make sure your pupils know they have support when they need it and to give them tools to manage their own mental health. PSHE lessons are a great place to start these discussions and discuss pupil wellbeing, highlighting the importance of planning a high-impact PSHE curriculum that allows for the discussion of current issues and concerns.
Don't forget that your mental health is important, too. It's important that teachers make time to prioritise their mental health and relax and unwind during their downtime.